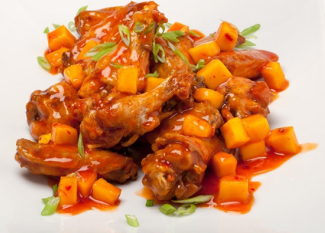 Spicy tender pieces of grilled or fried chicken that make always the delicious appetizer! These  Bahamian punch wings  are simple and are great for dinner or any party.
Bahamian Punch Wings is a crispy chicken wings with a sweet and spicy Mango Habanero Sauce with a hint of dark rum and maraschino cherry juice. Garnished with diced mango, this traditional Bahamian dish is served with a side of grits and bread or Johnny cake. For the dish are  little nuggets of chicken or whole thigh and chicken wings can be used.
You can use different sauces to change up this recipe too. Like sweet and spicy Mango Habanero Sauce, citrus Ponsou sauceor tangy sauce made from sorrel (hibiscus blossoms).
Read more