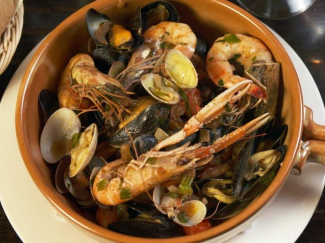 Buzara is a Croatian technique of preparing seafood by cooking it in a mixture of olive oil, wine, garlic, fresh herbs (usually parsley), and (sometimes) breadcrumbs. This method of preparation creates a flavorful sauce that gives the dish distinctive, fresh, and clean flavor and aroma reminiscent of the sea.
"Buzara" in Croatian literally means "stew," but buzara-style cooking simply means that some type of shellfish or crustacean is cooked with olive oil, wine, garlic, breadcrumbs, and fresh herbs.
The main star of Buzara is definitely seafood.  Besides grilled shrimps, Buzara is probably most popular type of scampi dish, probably originating in Italy. In Croatia, there are two main types of Scampi Buzara: white and red. White Buzara is made with white wine, butter, garlic and parsley, while Red Buzara contains some tomato paste.
The dish is simply seasoned with salt and pepper, while the most common choice of seafood is scampi (škampi na buzaru) or mussels from the Adriatic Sea, it can also contain a variety of other shellfish, such as prawns, lobster or limpets, even fishs.
Read more