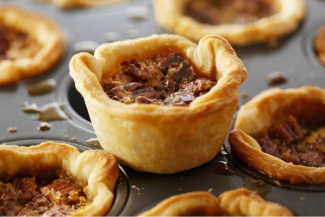 Butter tart is a small pastry tart filled with a deliciously gooey semi-solid syrup made up of butter, sugar, and eggs. Often dried fruit or nuts are added to the filling. These sweet little gems are said to have originated in Quebec back in the 1600s. The butter tart should not be confused with butter pie (a savoury pie from the Preston area of Lancashire, England) or with bread and butter pudding.
The famous Canadian butter tarts consist of a flaky pastry shell filled with a rich buttery caramel center. They are a perfect sweet indulgence whether you're Canadian or not. As an iconic Canadian food and one of the most popular desserts in the country, the raisin-or-no-raisin question can provoke polarizing debate.
More exotic flavours are also produced by some bakers. Examples such as maple, bacon, pumpkin, chili, and salted caramel cardamom flavours have been made for competitions.
Read more