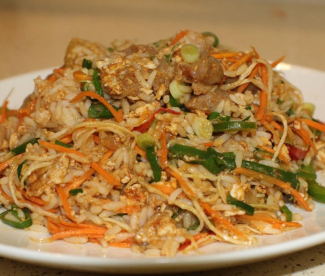 Rice doesn't grow well in Mongolia, as the climate is too cold and dry, but there has been a long history of importation from China to the south, meaning that it has been well and truly integrated into the national cuisine.
Meat, commonly mutton,in Budaatai khuurga is stir fried with finely chopped vegetables, flavoured simply with onion and garlic then combined with cooked or leftover rice. The locals sometimes replace mutton with beef, while the vegetables used in the dish typically include onions, bell peppers, cabbage, carrots, or sometimes potatoe
The dish is enjoyed throughout the country can be served at lunch and dinner.
Read more