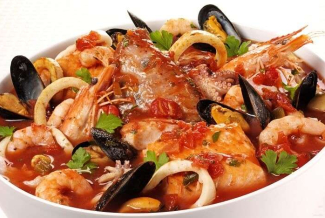 Brodetto, a fish stew with a tomato base, is a specialty of the Marche region of Italy. There are several recipes for brodetto, even within the Marche. Traditionally, fishermen cooked it over an open fire using the catch of the day. They would add ample vinegar to the pot to preserve the stew for a couple of days
Originally it was made by fishermen and fish merchants as a way to use up the small catch, unwanted pieces and less prized seafood that came along with their haul. Now, as often happens with cucina povera, it became appreciated for its flavor and over time more cuts and types of seafood got added to the mix. The joy of brodetto is its versatility - you can throw in whatever you find and like, and it will still be delicious!
It contains whole or cuts of fish, along with crustaceans and calamari if you choose. The stew sometimes contains peppers and a dash of vinegar, like in San Bendedetto del Tronto, sometimes tomatoes and a bit of piccante zip, like around southern Abruzzo, and sometimes its light on the tomato and generous with the wine, like the versions around Ancona.
Read more