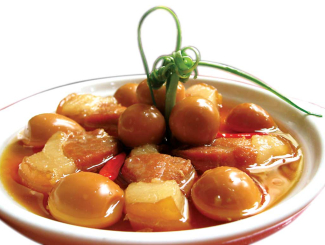 This slowly braised pork and eggs is one of the favorite dish in Vietnam. The main ingredients are pork belly and boiled duck eggs or quail eggs for the option. Taking pork belly with bones will make it even tastier.
The trick to this dish is the longer the cooking time, the tender the meat and obviously the better the flavor.
This dish yields a lot of fat. So you make this dish ahead of time, put it in the fridge to cool. Pork fat will congeal on the surface once cooled. Grab a spoon and scoop it out for a healthier version. But just don't scoop out all of it, as fat is flavor! You can also skip the pork belly and use pork shoulder instead for a leaner version.
Although it is a normal everyday dish in southern Vietnam, it is also one of the traditional foods during Tết festival (Lunar New Year). Before this favorite dish is served for home meal, the dish is offered to deceased ancestors or family members on altars.
Read more
Ingredients
Pork Belly Marinade
2 lbs pork belly (1 kg)
1/3 cup fish sauce
2-1/2 tablespoons sugar
2 garlic cloves (mince)
Half large shallot (mince)
1 teaspoon thick soy sauce or homemade caramel cooking sauce
Braising Liquid
1 -2 chili pepper (or red banana pepper) optional
2 garlic cloves (minced)
Other half of shallot (mince)
1 tablespoon vegetable oil
3 cups water
1/2 cup fish sauce (120ml)
2.5 cups coconut juice (600 ml)
How to cook
1.Clean the pork. Generously coat pork with salt (about 1 tablespoon) and give it an abrasive scrubbing. Rinse pork under cold water. Slice pork into 2x2 inch cubes and place in a small stock pot.
2.Season the pork with  sugar first, minced garlic, minced shallot, homemade caramel cooking sauce for 30 minutes or longer in the refrigerator then add fish sauce for 30 minutes more in the room temperature.
Option: Slice pork into 2x2 inch cubes and place in a small stock pot. Add water to cover and heat on medium high until water begins boiling. Once it starts boiling, immediately turn off heat and transfer pork to a colander to rinse and drain dry then marinate like step number 2.
3.In a large pot over medium heat, add 1 tbsp cooking oil and sprinkle 2 tbsp sugar over the base. When the sugar melts and turns into a caramel color liquid, add the pork and stir well for 3 minutes until the pork is no longer pink on the outside. If you used  thick soy sauce or homemade caramel cooking sauce for marinade and braising liqid, you don't need heating sugar for caramel.
4.Add coconut juice and water (The amount should be enough to barely cover the pork). Then add the hard boiled eggs and bring to a boil. Add fish sauce and adjust to your taste. (Depending on the sweetness of the coconut juice, you may want to add more sugar and 1 or 2 whole chilli pepper if you like). Skim off the scum and simmer uncovered over low-medium heat for 2 hours. The sauce will reduce by half and become saltier.