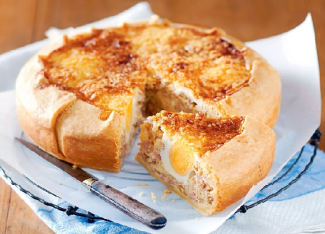 There's nothing quite like a great Bacon and Egg Pie for this Kiwi girls, guys and ladies! This breakfast pie is a New Zealand classic pastry. The pie consists of juicy scrambled eggs, hearty whole eggs, thick smoky chunks of juicy bacon, lightly spiced flavorful soft leeks, and gooey cheese all encased in beautiful, buttery, flaky layers of puff pastry.
The pie is served warm or at room temperature with a side salad and pickles or chutney and many like to serve this with tomato ketchup, too.
For the basic variant of  favourite pie it is only needs 3 ingredients needed; bacon, egg, and pastry dough. However, you can switch up those ingredients to make your own version of this breakfast pie with cheese, leeks, potato or maybe spinach. And mixed soft herbs, such as parsley, basil, chives or spring onion tops, chopped.
Read more