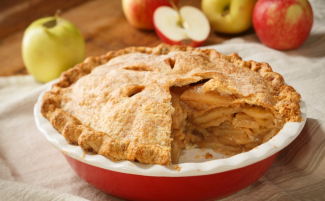 Apple pie is a pie which  has a flaky, buttery crust and a tender, lightly-spiced apple pie filling.  
Apple pie can be made with many different sorts of apples. The more popular cooking apples include Braeburn, Gala, Cortland, Bramley, Empire, Northern Spy, Granny Smith, and McIntosh.[5] The fruit for the pie can be fresh, canned, or reconstituted from dried apples. Dried or preserved apples were originally substituted only at times when fresh fruit was unavailable. The filling generally includes sugar, butter, and cinnamon, sometimes also lemon juice or nutmeg;[2] many older recipes call for honey in place of the then-expensive sugar.
Apple pie is today an unofficial symbol of the United States and one of its signature comfort foods.
Read more