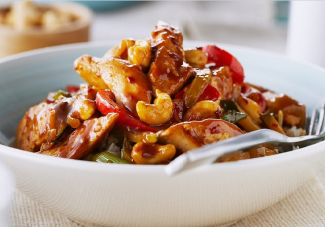 Poulet aux noix is a rich northern Haiti specialty of chicken cooked in a tomato-based sauce with cashew nuts.
The chicken meat is marinated with lime juice, shallots, scallions, garlic and red and green, it made the uncooked chicken seem festive before heading into the pot with thyme, cloves, and parsley. The tomato paste and boiled cashews were added near the end to finish off this beauty of a recipe.
The dish is traditionally prepared for Sunday lunch in Haiti, and it is often accompanied by rice with djon-djon or rice with green peas. This dish is served all over but especially in Cap-Haitien were it originated.
Read more