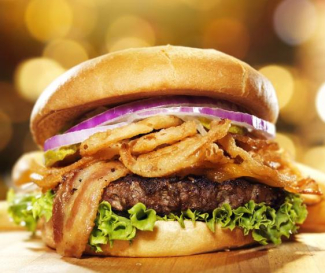 Hambutger is a sandwich consisting of a cooked patty of ground or chopped beef, usually in a roll or bun, variously garnished.
The ground or chopped beef, called Hamburg steak  is a patty of ground or chopped beef, seasoned and fried or grilled, the served with , lettuce, tomato, onion, pickles; condiments such as ketchup or a variation of Thousand Island dressing; and are frequently placed on sesame seed buns. A hamburger topped with cheese is called a cheeseburger
The origin of hamburger is unknown, but the hamburger patty and sandwich were probably brought by 19th-century German immigrants to the United States, where in a matter of decades the hamburger came to be considered an archetypal American food. The importance of the hamburger in American popular culture is indicated by its virtual ubiquity at backyard barbecues and on fast-food restaurant menus and by the proliferation of so-called hamburger stands and restaurants. Some chains, such as McDonald's, Burger King, and Wendy's, proliferated worldwide.
Hamburgers are customarily eaten as a sandwich, between two halves of a round bun. Mustard, mayonnaise, ketchup, and other condiments, along with garnishes of lettuce, onion, tomato, and sliced cucumber pickle, added the customary dressing. In the variation known as the cheeseburger, a slice of cheese is melted over the patty. The patty itself is often seasoned or augmented with chopped onions, spices, or bread crumbs before cooking.
Read more